Description
2 Fighters! No research! 60 Seconds! MELEE!!!! Who would win between the Man of Steel and the armored Avenger? Find out in 60 quick seconds!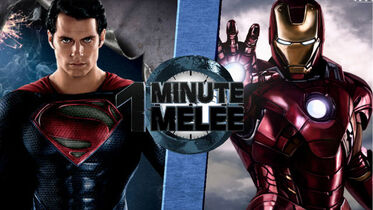 Interlude
ONE MINUTE MELEE!
WHERE ALL THE FIGHTS ARE SETTLED IN 60 SECONDS!
2 FIGHTERS! NO RESEARCH! 60 SECONDS!
MELEE!
MELEE!
Iron Man is flying in Metropolis. Then a figure flies over him. It's Superman.
Superman: Hey there, iron. You look like a worthy foe.
Iron Man: Next time, don't catch opponents off guard.
STEEL VS IRON! FIGHT!
Iron Man fires his Repulsor Rays at Superman, but Superman dodges. He uppercuts Iron Man. Iron Man kicks Superman, making him fly back. Superman fires his eye lasers at Iron Man. Iron Man uppercuts Superman. Superman grabs Iron Man and flies upward and slams him hard on the ground. A giant crater is formed. Superman, holding Iron Man, flies out of it.
Superman: Freeze.
Superman fires his Arctic Breath, freezing Iron Man's head. He shatters Iron Man's frozen head by punching the back of it.
K.O.! THIS MELEE'S VICTORY GOES TO...
SUPERMAN!
Ad blocker interference detected!
Wikia is a free-to-use site that makes money from advertising. We have a modified experience for viewers using ad blockers

Wikia is not accessible if you've made further modifications. Remove the custom ad blocker rule(s) and the page will load as expected.