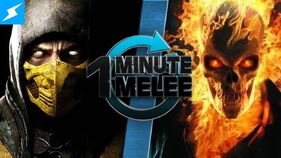 ONE MINUTE MELEE
WHERE ALL THE FIGHTS ARE SETTLED IN 60 SECONDS.
TWO FIGHTERS, NO RESEARCH, MELEE!!!
GO
Reporter: Johnny, we know you're a superhero, but you gotta repair the collatera....
Suddenly a harpoon flies through the air and kills the reporter on the spot. A black and yellow clad ninja stands in a fighting position. Johnny turns into Ghost Rider and also stands ready to fight.
FIGHT
Scorpion opens up with with a flying kick into Ghost Rider, then shoots fire at him. Scorpion does a barrage of punches and kicks pushing Ghost Rider backwards before teleporting behind him and punches his skull. Scorpion grabs GR's neck and tries to do his spine rip fatality but fails. He the launches his harpoon at Ghost Rider."GET OVER HERE" The harpoon soars toward Ghost Rider, but GR catches it and pulls Scorpion toward him and punches him hard. He then uses his hellchain to mercilessly slash at Scorpion. He pulls out his bike and crashes clean into Scorpion. The hell chain comes out and slashes Scorpion, who is covered in blood. Rider then grabs Scorpion, and uses the Penance Stare, killing Scorpion. Ghost Rider drops Scorpion's lifeless body on the ground.
K.O.
THIS MELEE'S VICTORY GOES TO...... GHOST RIDER.
Ad blocker interference detected!
Wikia is a free-to-use site that makes money from advertising. We have a modified experience for viewers using ad blockers

Wikia is not accessible if you've made further modifications. Remove the custom ad blocker rule(s) and the page will load as expected.