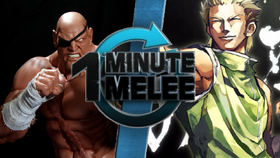 This is ahomeschoolingroudon's tenth fan-made One Minute Melee putting Sagat from Street Fighter against Burai Yamamoto from Big Bang Age
Description
The Emperor of Muay Thai goes against the Fine-Eyed Baron in a duel.
Interlude
ONE MINUTE MELEE!
WHERE ALL THE FIGHTS ARE SETTLED IN 60 SECONDS!
2 FIGHTERS!
NO RESEARCH!
MELEE!!!
Fight
Burai Yamamoto has just finished a fight against Terry Bogard so he's about to go back to sleep until he sees another challenger, Sagat.
Burai: So, another fight it looks like? I'm game taking out another fool.
Sagat: Only a fool boasts of his strength but cannot back up his words with action, I'll show you!
The Divine Lights are Blazing!
Round 2!
FIGHT!
Sagat runs up and kicks Burai, but he ducks and begins punching Sagat.
Burai: Told you!
Sagat: I'm not finished just yet!
Sagat uppercuts Burai and attacks him with a High Step Kick.
Sagat: This is easy!
Burai: As if I'll let it stay that way.
Burai uses a Flicker Jab and hooks Sagat, they both begin punching at each other blocking both attacks
Burai: Freedom Punch!
Burai hits Sagat 7 times then uses a powerful punch
Burai: Fist of Freedom!
Burai unleashes the Fist of Freedom but Sagat uses his super attack and runs through the Fist of Freedom
Sagat: Nice try!
Sagat uses the Tiger Knee at Burai's face knocking him down to the ground
K.O!
Sagat: You claim to fight for your country, yet you cannot even defend yourself? I find that pitiful.
This round's victory goes to...
Sagat!
Who do you think would win?
Ad blocker interference detected!
Wikia is a free-to-use site that makes money from advertising. We have a modified experience for viewers using ad blockers

Wikia is not accessible if you've made further modifications. Remove the custom ad blocker rule(s) and the page will load as expected.