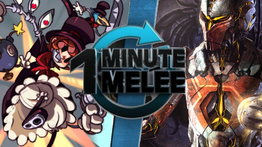 Peacock vs Sektor is ahomeschoolingroudon's 22nd fight featuring Peacock from Skullgirls against Sektor from Mortal Kombat (Credit to BonBooker for the idea)
Description
Two rebuilt humans now turned to ultimate weapons duke it out in 60 quick seconds!
Interlude
ONE MINUTE MELEE!
WHERE ALL THE FIGHTS ARE SETTLED IN 60 SECONDS!
2 FIGHTERS!
NO RESEARCH!
60 SECONDS!
MELEE!!!
Fight
Peacock was pacing around, in her Lucky the Leprechaun pallet. Singing to herself Yakko's World. But then, Sektor bursted in
Peacock: And who are you supposed to be?
Sektor: Sektor of the Lin Kuei, but that's not important. You will be my next victim
Peacock laughed
Peacock: You must not know me well enough idiot!
Triumph or die!
FIGHT!
Sektor shot at Peacock with a laser pistol but Peacock shot back with her own guns. Sektor leaped up into the air and began hiding.
Peacock: I can remedy this
Peacock dropped down a bowling ball on top of Sektor knocking him back down. Peacock: I don't have the patience to deal with boring stealthy guys like you
Sektor: I will burn you to ashes!
Peacock: Thanks for the invitation!
Sektor was surprised by her response and shot a flamethrower at Peacock. But she merely smirked and avoided the attack.
Peacock: You're so naive..so naive..and stupid.
Peacock dropped a road roller on Sektor as one of her goons pummeled it as Sektor was being crushed 14 times. Then the Road Roller blew up in Sektor's face
Sektor: I can't lose to a girl!
Peacock: But you will! Next time try thinking before you engage in a fight!
Peacock pulled out a large blade and leaped at Sektor
Peacock: Hiya!
Peacock swung, cutting Sektor in two.
K.O!
Peacock: Again, what an idiot.
This melee's winner is..
Peacock!
Ad blocker interference detected!
Wikia is a free-to-use site that makes money from advertising. We have a modified experience for viewers using ad blockers

Wikia is not accessible if you've made further modifications. Remove the custom ad blocker rule(s) and the page will load as expected.