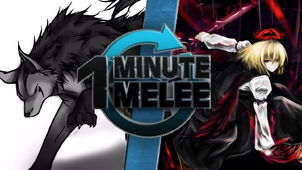 Mightyena vs Rumia is ahomeschoolingroudon's 15th One Minute Melee between Mightyena from Pokemon against Rumia from Touhou Project
Description
Which darkness manipulator comes out on top in a battle between the Pokemon & the Youkai?
Interlude
ONE MINUTE MELEE!
WHERE ALL THE FIGHTS ARE SETTLED IN 60 SECONDS!
2 FIGHTERS!
NO RESEARCH!
60 SECONDS!
MELEE!!!
Fight
Rumia is walking through a forest until a Mightyena leaps out of the tall grass
Rumia: A dog? Heh, I wanna keep him
Mightyena however bites Rumia
Rumia: Ok, scratch that!
Mightyena: *Pokemon cry*
Go for broke!
FIGHT!
Mightyena leaps at Rumia but Rumia knocks Mightyena out of the way and uses the Night Bird spell card knocking the wolf away
Rumia: I was expecting more, I'm disappointed
Mightyena however uses Sand Attack then tackles Rumia
Rumia: Get off!
Rumia kicks Mightyena away but Mightyena uses Snarl and Sucker Punches her
Rumia: Moonlight Ray!
Rumia uses the Moonlight Ray spell card but Mightyena evades and uses Take Down.
Rumia: I cannot afford to lose!
Rumia uses Dark Side of the Moon spell card then uses Demarcation but Mightyena survives and leaps at Rumia
Rumia: No way.
Mightyena claws at Rumia then uses Swagger making Rumia confused
Rumia: I can't lose!
Rumia blindly charges at Mightyena but the Youkai misses and Mightyena crunches Rumia on the back and then uses Giga Impact
K.O!
Rumia gets sent flying away by the Mightyena
This melee's winner is..
Mightyena!
Who do you think would win?