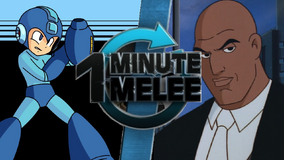 Mega Man vs Lex Luthor is Blippeeddeeblah's 5th One Minute Melee that pits Mega Man from Capcom against Lex Luthot from DC.
Description
Two technology-using fighters face off!
Intro
ONE MINUTE MELEEE!
WHERE ALL THE FIGHTS ARE SETTLED IN 60 SECONDS!
2 FIGHTERS,
NO REASEARCH
60 SECONDS
MELEEEEE!!!
Melee
Mega Man was walking around a city when he saw a man laughing so eh decided to run over to see who it was thinking it was Wily at first, but he then saw Lex Luthor instead
Lex: Huh, what are you doing?
Lex gets in his suit.
Mega Man aims his arm cannon at Lex.
GO FOR BROKE!
FIGHT!
Mega Man fires at Lex's armor, which reflects it sending Mega Man flying. Mega Man gets up and uses the heavy arm to grab Lex and toss him out of his suit, but he kicks Mega Man in the face, which let him stay in. Mega Man makes the Leaf Shield around him and tosses it, slightly knocking Lex back
Mega Man charges a shot and then fires, damaging his suit. Lex takes out his axe and chops Mega Man's arm off, but luckily his arm cannon was still there
Mega Man picks up the axe and snaps it in half. Mega Man then uses Flame Blast burning Lex
Lex: You'll pay for that!
Mega Man gets punched several times by Lex's suit
Lex continues punching but finally getd tired out, allowing Mega Man to fire a hard knuckle
Lex holds up his own suit fist blocking the attack and then throws Mega Man into a building
Mega Man fires the air shooter which goes through Lex
Lex: Gah!
Mega Man then charges up a blast and fires it at Lex.
KO!
Lex was sent flying and hit a building
This melee's victory goes to:
Mega Man!
Ad blocker interference detected!
Wikia is a free-to-use site that makes money from advertising. We have a modified experience for viewers using ad blockers

Wikia is not accessible if you've made further modifications. Remove the custom ad blocker rule(s) and the page will load as expected.