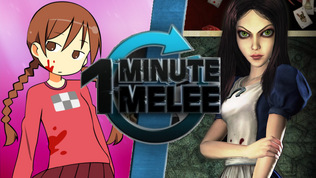 This is ahomeschoolingroudon's second fan-made One Minute Melee featuring Madotsuki from Yume Nikki and Alice Liddell from the Alice video game series.
Description
Who will win in a one on one dream fight between two knife wielding dream girls?
Interlude
ONE MINUTE MELEE!
WHERE ALL THE FIGHTS ARE SETTLED IN 60 SECONDS!
2 FIGHTERS!
NO RESEARCH!
60 SECONDS!
MELEE!!!
Battle
Madotsuki is walking through the Candle World but then she spots Alice Liddell.
Alice: Tea?
Madotsuki shakes her head and pulls out a knife.
Alice: So that's how it's gonna be?
Alice also pulls out her knife and points at Madotsuki with it ready for a battle
Be tough or be dead!
FIGHT!
Alice & Madotsuki swing at each other both blocking their strikes. Until Alice overpowers Madotsuki and kicks her away.
Alice: You are no foe, I've fought hallucinations with more combat abilities
Alice tries to impale Madotsuki but she activates the Triangle Kerchief effect avoiding the attack and then slashes Alice rapidly with the knife.
Alice however Butterfly Dodges the last attack
Alice: I'm not afraid of you creature.
Alice then activates her Gigantic Alice form and rams Madotsuki into the Tile Passage. However Madotsuki activated her Witch Form and flew upward with her broom and slashed Alice's brain knocking her down and she switches back to normal
Alice: You little..Grrr..
Alice then activates her Rage Form and slashes at Madotsuki and kicks her into Hell and chases after her.
Alice: This is where you'll stay!
Alice runs at Madotsuki and about to slash her head off until Madotsuki freezes time with the Stoplight and then slashes Alice right in the back
K.O!
Alice falls over nearly dead while Madotsuki just looks at her for a few minutes before activating the Medamaude
This Melee's victory goes too..
Madotsuki!
Who do you think would win?