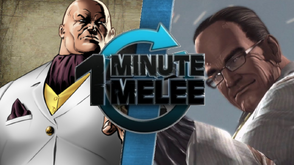 This is ahomeschoolingroudon's first fan-made One Minute Melee between Marvel Comic's Kingpin & Metal Gear's Senator Armstrong.
Description
Who will win in a fight between the senator and the crime lord?
Interlude
ONE MINUTE MELEE!
WHERE ALL THE FIGHTS ARE SETTLED IN 60 SECONDS!
TWO FIGHTERS!
NO RESEARCH!
60 SECONDS!
MELEE!!!
Battle
Kingpin is robbing a bank with his gang and makes it out with gold until Senator Armstrong appears
Armstrong: Now where do you think you're going?
Kingpin: Hah, do you know who I am, get him boys!
Kingpin's gang pulls out their firearms and shoots bullets at Armstrong, but he walks through them and beats the gang down.
Armstrong: Your gang is pitiful you better put up a good fight.
Kingpin: I always do.
This outta be a match to remember!
Engage!
Kingpin & Senator jump at each other and punch each other blocking both of their attacks.
Kingpin: You're impressive, but I'm superior
Armstrong: I doubt kid. I've played collage ball y'know
Armstrong then grabs Kingpin and throws him up and jump kicks him
Armstrong: Don't fuck with this senator!
Kingpin then grabs his cane and swings at Armstrong and knocks him down.
Kingpin: You're done.
Kingpin then swings his cane downward but it breaks when hitting Armstrong as he protected himself with his nanomachines
Kingpin: What?
Armstrong: Nanomachines son!
Armstrong throws Kingpin out of the bank and runs at him
Armstrong: I'm no beltway pansy I can break the president in two!
Armstrong winds up a punch and hits Kingpin
K.O!
Kingpin gets sent flying into a building.
This Melee's victory goes to..
Senator Armstrong!
Who do you think would win?