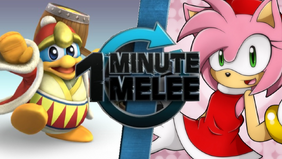 King Dedede vs Amy Rose is ahomeschoolingroudon 24th One Minute Melee putting King Dedede from Kirby against Amy Rose from Sonic.
Description
Two hammer wielders go toe to toe in a 60 second duel!
Interlude
ONE MINUTE MELEE!
WHERE ALL THE FIGHTS ARE SETTLED IN 60 SECONDS!
2 FIGHTERS!
NO RESEARCH!
60 SECONDS!
MELEE!!!
Fight
King Dedede was in dreamland but then Amy Rose mistakes him for Eggman
Amy Rose: You!
Amy Rose flails at Dedede with her Piko Piko Hammer but King Dedede kicked her away
King Dedede: Hahah! I'm the king of this land! Try and attack me and you'll regret it
Amy Rose: Then I shall whack that royal crown of yours right off!
Amy Rose sped at King Dedede
Nobody Blink!
Engage!
Amy Rose whacked King Dedede right in the face knocking him down. But King Dedede jumped up and smashed his hammer at Amy's back.
Amy Rose: Grr...
Amy Rose started spinning around, with her hammer out. She then rammed straight into Dedede but he was fine. King Dedede extended his hammer forward and hits Amy.
King Dedede: Hah!
King Dedede does the Super Dedede Jump and crushes Amy into the ground.
Amy Rose: I hate you!
Amy Rose bursts out of the ground and rapidly punches and kicks Dedede and hits him directly in the stomach with the Piko Piko hammer
King Dedede: Ach!
Amy Rose: Now it's my turn!
Amy Rose backed up and got a running start and charged up a hammer swing. But King Dedede charged up a Jet Hammer and when Amy Rose began to swing she got struck by the Jet Hammer
K.O!
Amy Rose got knocked straight into a mountain.
King Dedede: Hahah! Nobody messes with King Dedede!
This melee's winner is..
King Dedede!
Ad blocker interference detected!
Wikia is a free-to-use site that makes money from advertising. We have a modified experience for viewers using ad blockers

Wikia is not accessible if you've made further modifications. Remove the custom ad blocker rule(s) and the page will load as expected.