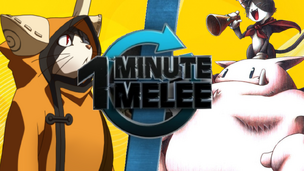 Jubei vs Cait Sith is ahomeschoolingroudon's twelfth fan-made One Minute Melee putting Jubei from Blazblue against Cait Sith from Final Fantasy
Description
A literal cat fight is happening between these two cats!
Interlude
ONE MINUTE MELEE!
WHERE ALL THE FIGHTS ARE SETTLED IN 60 SECONDS!
2 FIGHTERS!
NO RESEARCH!
60 SECONDS!
MELEE!!!
Fight
Jubei is walking through Kagutsuchi Port where Ragna once was..
Jubei: I'm sorry Ragna, I should've been a better instructor.
Cait Sith however was walking by and got ready to challenge Jubei
Cait Sith: I heard that you are one of the Six Heroes. I demand a match
Jubei: You! I have no time! Leave!
Cait Sith: I could never leave!
Jubei: Then I'm gonna force you.
Cat fight!
Engage!
Jubei swings the Nox Nyctores at Cait Sith and cuts him.
Jubei: You should've thought twice!
Cait Sith: Hah, I haven't started yet!
Cait Sith uses the megaphone then his Moogle begins to attack Jubei
Cait Sith: Take that!
Jubei kicks Cait Sith's moogle but it doesn't flinch. Cait Sith just snickers as he beats down Jubei again
Jubei: No matter..
Jubei cuts off one of the Moogle's arms and then begins kicking it again
Cait Sith: I'm not finished!
Cait Sith used the Megaphone again stunning Jubei then the moogle punches him back down to his knees
Jubei: What..but, how.
Cait Sith: I'm better than you that's how! What are you stupid!
Cait Sith then winds up a punch then hits Jubei with him knocking him up into the sky
K.O!
This Round's winner is..
Cait Sith!
Who do you think would win?
Ad blocker interference detected!
Wikia is a free-to-use site that makes money from advertising. We have a modified experience for viewers using ad blockers

Wikia is not accessible if you've made further modifications. Remove the custom ad blocker rule(s) and the page will load as expected.