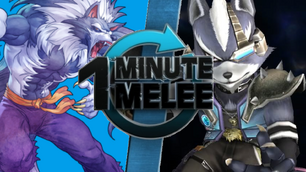 This is ahomeschoolingroudon's ninth One Minute Melee featuring Jon Talbain from Darkstalkers against Wolf O' Donnell from Star Fox (Credit to  Blippeeddeeblah for the idea)
Description
Two wolves claw at each other, Can the martial artist wolf best the space warrior?
Interlude
ONE MINUTE MELEE!
WHERE ARE THE FIGHTS ARE SETTLED IN 60 SECONDS!
2 FIGHTERS!
NO RESEARCH!
60 SECONDS!
MELEE!!!
Fight
Jon Talbain is walking through a wasteland until he spots Wolf. Wolf pulls out a blaster and shoots him away
Jon: Only those with fangs should survive! I'll rip you to shreds with my rage!
Wolf: You're in my sights! You're going down!
Wolf runs at Jon while he gets in his fighting stance
Triumph or die!
Engage!
Wolf slashes at Jon with his claws but fails as he guards himself.
Wolf: Grr..
Jon grabs Wolf and slams him down. He tries to rip him to pieces but he activates his Wolf Flash
Wolf: Don't get cocky!
Wolf strikes downward and kicks rapidly
Jon: I only live to fight!
Jon Climb Lazers Wolf knocking him away
Jon: I'll obtain lightspeed!
Jon runs at Wolf and rapidly crunches him with his fangs. However Wolf shot him in the jaw stunning him
Wolf: Playtimes over!
Wolf initiates the Fire Wolf at Jon but he manages to make it through and slashes Wolf multiple times and fires the Dragon Cannon
Jon: Your pride shall be ripped apart!
Wolf used his reflector however knocking the Dragon Cannon back at Jon blasting him down to the ground. Wolf used this as an advantage and called in the Wolfen 
Wolf: You're good but I'm better!
The Wolfen flied in and fired a Smart Bomb at Jon turning him to nothing but ashes.
K.O!
Wolf landed his Wolfen and jumped out of it and approached the roaring flames of Jon was once standing
Wolf: I am always the one who will take you down..
This melee's victory goes too..
Wolf!
Who do you think would win?