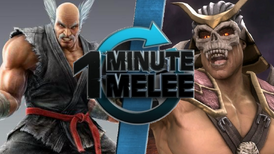 Heihachi vs Shao Kahn is ahomeschoolingroudon's 23rd One Minute Melee featuring Heihachi from Tekken against Shao Kahn from Mortal Kombat
Description
Two fighting game characters go head to head in this fight!
Interlude
ONE MINUTE MELEE!
WHERE ALL THE FIGHTS ARE SETTLED IN 60 SECONDS!
2 FIGHTERS!
NO RESEARCH!
60 SECONDS!
MELEE!!!
Fight
Shao Kahn was in outworld, ready to claim the power of armageddon but then. A warrior came along, one Shao Kahn never heard of before. Heihachi Mishima
Shao Kahn: And who are you supposed to be
Heihachi: I am Heihachi, and I'm here to squash you like a bug!
Shao Kahn laughed
Shao Kahn: You will die mortal.
This outta be a match to remember!
FIGHT!
Shao Kahn rams into Heihachi with charging spikes but he blocked the attack and began kicking Kahn.
Heihachi: What's the matter?
Heihachi headbutted Kahn back
Shao Kahn: Is that your best?
Shao Kahn shot an explosive ball at Heihachi knocking him up then Upward Shoulders him
Shao Kahn: Aw, too easy.
Heihachi strikes Shao Kahn downward and kicks Shao Kahn right in the back
Heihachi: Fool.
Shao Kahn fired an eyebeam at Heihachi but Heihachi rolled to the side. Heihachi tried to jump kick but Shao Kahn hits him in the head with the Wrath Hammer
Shao Kahn: You will die, mortal.
Heihachi however grabbed Shao Kahn and began choking him
Heihachi: I'll be quick with your death!
Shao Kahn: Feel the wrath of Shao Kahn!
Shao Kahn kicked Heihachi in the groin
Shao Kahn: You are nothing!
Shao Kahn laughed but Heihachi used this as an opportunity to rapidly attack Shao Kahn
Heihachi: I won't die that easily!
Heihachi knocked Shao Kahn to his knees
Shao Kahn: What..
Heihachi used Demon Uppercut and knocked Shao Kahn's head off
K.O!
Heihachi: Never underestimate me.
Heihachi walked away
This melee's victory goes to..
Heihachi Mishima!
Ad blocker interference detected!
Wikia is a free-to-use site that makes money from advertising. We have a modified experience for viewers using ad blockers

Wikia is not accessible if you've made further modifications. Remove the custom ad blocker rule(s) and the page will load as expected.