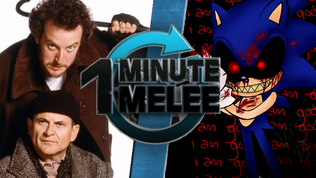 Harry & Marv vs Sonic.EXE is ahomeschoolingroudon's fourteenth One Minute Melee and second joke battle between the incompetent Harry & Marv from Home Alone against Sonic.EXE from the creepypasta that is in my thoughts anything but creepy.
Description
Can the incompetent thieves best the incompetent creepypasta?
Interlude
ONE MINUTE MELEE!
WHERE ALL THE FIGHTS ARE SETTLED IN 60 SECONDS!
2 FIGHTERS!
NO RESEARCH!
60 SECONDS!
MELEE!!!
Fight
Harry & Marv are driving along the city until they see something running after them through the car window. It was a hedgehog but with bloodred eyes. Sonic.EXE
Harry: What the hell is that Marv?
Marv: I don't know.
Sonic.EXE jumps on the top of the car and rips it open
Sonic.EXE: Found you!
Harry & Marv jump out of the car and Sonic.EXE leaps after them
Sonic.EXE: It's play time now..
Marv: Oh shut it you!
Triumph or die!
Engage!
Harry pulls out a gun and shoots Sonic.EXE sending him back
Sonic.EXE: Grr..do you know who I am?
Sonic.EXE teleports behind Harry and cuts him in the head. Harry screams in agony as Marv hits him away with a shovel
Sonic.EXE: I am god!!
Marv: Some hedgehog, a god? You must be joking.
Sonic.EXE: Does this look like a comical face?
Harry: No more talking!
Harry reloads his pistol and shoots at Sonic.EXE again. This time Sonic.EXE teleports in front of him and rips open the gun
Sonic.EXE: Mere mortal.
Marv: I have lost my tolerance!
Marv throws a crowbar at Sonic.EXE impaling him in the head and launching him at Segata
Segata: SEGA SATAN SHIRO!
Segata judo throws Sonic.EXE at Madoka who then shoots Sonic.EXE back to the ground at the edge of a cliff but Gorilla Grodd shoots Sonic.EXE off the cliff and into a conveniently placed lava pit causing him to burn to a crisp.
K.O!
Harry & Marv burst into laughter for a moment then go back to driving
This melee's victory goes too..
Harry & Mar-
Harry & Marv burst back into laughing again
Who do you think would win?