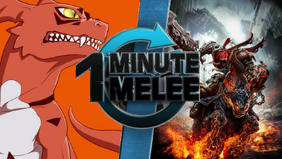 Guilmon vs War is Blipeddeeblahs One Minute Melee.
Description
Two bringers of war face off! Willa Digimon be able to defeat war?
Interlude
ONE MINUTE MELEE!
WHERE ALL THE FIGHTS ARE SETTLED IN 60 SECONDS!
TWO FIGHTERS
NO REASEARCH
60 SECONDS
​MELEE!!!
Mele​e
Guilmon was just walking around and eating some fruit until War suddenly jumped in
Guilmon: Hey? What are you doing here?
War: Fight me.
Guilmon: Ok!
NOBODY BLINK
FIGHT!
War hits Guilmon with Chaos Seater a couple of times, knocking Guilmon back, but Guilmon jumps back and then kicks War onto a tree.
War: Not now! You can't win!
War then makes a shckwave through his Gauntlets, but Guilmon leaps over them.
Guilmon: Try better!
Guilmon jumps over another one and then fires a Pyro Sphere that knocks War back, who gets back up and then hits Guilmon several times with his scythe
Guilmon: Agh!
The Digimon is knocked back, but he regains focus and Digivolves into Growlmon
Guilmon: Digivolve into...
Growlmon: Growlmon!
War: Hm..that's better, but not enough.
Growlmon roars and then kicks War several times, who blocks them with his scythe until it breaks.
War: Gah!
War then uses Armagdeon and then gets ready, as Growlmon fires Pyro Baster, which knocks War up into the sky, who lands down and goes to stab Growlmon.
Growlmon is knocked back a bit and then slowly holds the weapon up
War: You're still defeated!
Growlmon: ROAR!!!
The Digimon's elbow blades start to glow with plasma and then gets ready to use Dragon Slash
War: What!?
Growlmon then slices War sending him flying.
K.O.!
Winner
This Melee's Victry goes to...
Guilmon!
Ad blocker interference detected!
Wikia is a free-to-use site that makes money from advertising. We have a modified experience for viewers using ad blockers

Wikia is not accessible if you've made further modifications. Remove the custom ad blocker rule(s) and the page will load as expected.