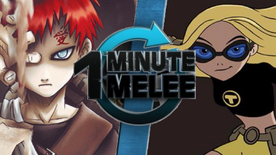 Gaara vs Terra is Blipeddeeblah's One Minute Melee
Description
Naruto VS Teen Titans. It's a duel between two sand bending combatants in the ring! Garaa retuns and take on another enemy. How well will he do this time?
Interlude
ONE MINUTE MELEE!
WHERE ALL THE FIGHTS ARE SETTLED IN 60 SECONDS!
2 FIGHTERS!
NO RESEARCH!
60 SECONDS!
MELEE!!!
Fight
Garaa is standing near a tree when...
Terra: hmm...
Terra then hurls a rock into Garaa.
Garaa sense's the attack. he uses his sand and crushed it.
Garaa: Who did that?
Terra then jumps out of the bush in her fighting pose.
Garaa: you will die!
THERE'S NO STOPPING NOW! FIGHT!
Garaa throws a dust of sand into Terra who blocks it with her rock.
Terra: my turn.
Terra then uses the rock she blocks and hurls it into Garaa who once again crush is it with his sand.
Garaa: not this time.
Terra then gets angry and rushes torward Garaa who then uses sand to float in the air.
Garaa: listen to me little girl i'm gonna end this quick.
Terra is shocked
Terra: little girl....
Garaa then throws a dust of sand into Terra who blocks it with her rock.
Terra: i'll show you little!!!
Terra then uses a rock from the ground to help her fly.
Terra rushes into Garaa who throws more sand who breaks the rock but Terra is still flying
Garaa: uh oh
Terra smashes Garra into the ground breaking him into piece's

K.O
Terra spawns another rock to take her away.
Terra: annoying boy
Terra leaves as Garra's piece's lie on the ground

THIS MELEE WINNER IS..... TERRA
Ad blocker interference detected!
Wikia is a free-to-use site that makes money from advertising. We have a modified experience for viewers using ad blockers

Wikia is not accessible if you've made further modifications. Remove the custom ad blocker rule(s) and the page will load as expected.