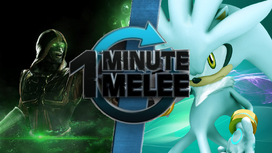 Ermac vs Silver the Hedgehog is ahomeschoolingroudon's sixteenth One Minute Melee putting Ermac from Mortal Kombat against Silver from Sonic the Hedgehog
Description
Which telekinetic user can outmatch the other in 60 quick seconds?
Interlude
ONE MINUTE MELEE!
WHERE ALL THE FIGHTS ARE SETTLED IN 60 SECONDS!
2 FIGHTERS!
NO RESEARCH!
60 SECONDS!
MELEE!!!
Fight
Silver the Hedgehog was currently flying through a wasteland. Until he spotted something lurking by the warrior statues
Silver: I think I found him, the Iblis trigger!
Silver destroyed a warrior statue but the figure leaped behind another one. The figure turned out to be the ninja. Ermac
Ermac: We are many you are but one.
Ermac uses telekinesis to fling the warrior statue he was behind at Silver
Silver: Hey!
Ermac revealed himself to Silver
Silver: So, you are the Iblis trigger after all, fine then. Bring it on!
Get ready to strike..
NOW!
Silver flies at Ermac at fast speed and rapidly punches and kicks him. However Ermac grabbed him by the throat and began to choke him
Ermac: Is that all you have!
Silver however grabbed Ermac with his telekineses and threw him back to get out of his grab
Silver: I can see this has gotten serious!
Ermac shot a telekinetic energy ball at Silver but Silver reflected it back.
Silver: That isn't gonna work on me.
Ermac: Hmph. I'll still show you your end. One way or another
Ermac jumped up and kicked Silver in the air.
Silver: Ugh! You little bastard!
Ermac gets ready to uppercut his head off but Silver suddenly disappears. Ermac looks around for him but Silver reappears behind him
Silver: Nice try!
Silver kicks Ermac towards the Subway. A train begins to come along.
Ermac: Grr..
Silver tosses the train at Ermac with his telekinetics but Ermac ducks under it and grabs Silver with his telekinetics.
Ermac: Up with you!
Ermac raised him 50 feet in the air and slammed him down to the ground
Ermac: You're done.
Ermac walked away but Silver got out the 7 chaos emeralds
Silver: I will show you what I'm made of!
Silver uppercuts Ermac into the air.
Silver: This will end it!
Silver threw a building at Ermac knocking him far away
K.O!
Silver: I, I did it! He's gone!
This melee's winner is..
Silver the Hedgehog!
Who do you think would win?
Ad blocker interference detected!
Wikia is a free-to-use site that makes money from advertising. We have a modified experience for viewers using ad blockers

Wikia is not accessible if you've made further modifications. Remove the custom ad blocker rule(s) and the page will load as expected.