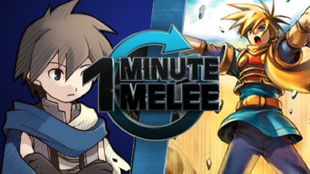 This is ahomeschoolingroudon's third fan-made One Minute Melee featuring Ein from Riviera the Promised Land & Isaac from Golden Sun
Description
These two are two main protagonists of JRPGs but which one will best the other?
Interlude
ONE MINUTE MELEE!
WHERE ALL THE FIGHTS ARE SETTLED IN 60 SECONDS!
TWO FIGHTERS!
NO RESEARCH!
60 SECONDS!
MELEE!!!
Fight
Isaac is walking in a plain desert field until Ein shows up
Ein: Hey you look like a tough opponent, I demand a fight.
Isaac: Tch, you must not know who I am.
Ein: Doesn't matter, I'm bored and you look like a good foe.
Isaac: So naive..I'll take care of it.
Go for Broke!
Engage!
Isaac and Ein charge at each other with their blades and both swing at each other but Ein overpowers Isaac and knocks him away.
Ein: That it?
Ein pulls out his Bow and fires at Isaac however Isaac throws a shuriken slashing the arrows in two as they fly at him
Isaac: Not quite.
Ein however avoids the shuriken and leaps at Isaac
Isaac: Not this time, Move!
Isaac fires his trademark move sending Ein away
Isaac: Fiery Blast!
Isaac fires a ball of fire at Ein but he moves out the way
Ein: Sacred blade of judgement, become my wings!
Ein begins charging his best ability
Ein: This is the will of the gods...DISARESTA!
Ein swings away without touching Isaac but the impacts begin damaging him and sends him down to the ground
Ein: This is the duty of the Grim Angels..
Ein walks off but Isaac gets up unexpectedly
Ein: Hm!?
Isaac: Never underestimate me! Wild Growth!
Plants come from the ground impaling Ein and tossing him towards Isaac
Isaac: Quake Sphere!
Isaac attacks with a massive quake knocking Ein far off
K.O!
Isaac: I tried to tell you.
This Melee's victory goes to..
Isaac!
Who do you think would win?
Ad blocker interference detected!
Wikia is a free-to-use site that makes money from advertising. We have a modified experience for viewers using ad blockers

Wikia is not accessible if you've made further modifications. Remove the custom ad blocker rule(s) and the page will load as expected.