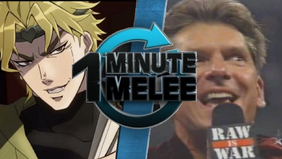 Dio vs Vince McMahon is ahomeschoolingroudon's 20th Death Battle and his 3rd Joke Fight between Dio from JoJo's Bizarre Adventure against Vince McMahon from the WWE
Description
It was them all along, but who is truly it?
Interlude
ONE MINUTE MELEE!
WHERE ALL THE FIGHTS ARE SETTLED IN 60 SECONDS!
2 FIGHTERS!
NO RESEARCH!
60 SECONDS!
MELEE!!!
Fight
Dio Brando was fed up due to his recent loss against a knife girl. He then noticed a man walking on the sidewalk, Vince McMahon
Dio: Take this!
Vince McMahon however kicked him away
Vince McMahon: Do you know who I am, I'm Mr. McMahon and I'm gonna take you down
Dio: Hmph, bring it on
Go for broke!
FIGHT!
Dio uses The World against Vince McMahon but Vince grabs him and bashes his head on the ground. Vince then jumps up and kicks Dio
Dio: Hinjaku hinjaku!
Dio kicks Vince up to the sky and begins rapidly punching him, then fires eye beams knocking him down
Dio: Soshite, toki wa ugokida-
Vince kicks him in the back then uppercuts him
Vince McMahon: I'm gonna stop being so god damn nice!
Vince McMahon hits Dio with his knee right in the face
Vince McMahon: You're fired!
Dio takes flight and knocks him down.
Vince McMahon: You deserve to be screwed!
Vince McMahon punts Dio's leg off, and he falls down.
Vince McMahon: You're gonna burn in hell!
Dio's leg regenerates and he stops time, and thinks he's stopped Vince
Vince McMahon: Aaaw HEEELL NOO!
Vince McMahon whacks Dio with his microphone. However Dio gets up
Dio: Za warudo!
Vince McMahon: I am the world Austin! It was me all along Austin!
The earth turns into Vince McMahon's head and it runs straight into Dio
Dio: YARGH!
Dio jumps up and slams down a roadroller and begins punching it
Dio: MUDAMUDAMUDAMUDAMU-
Vince McMahon destroys the roadroller and slams Dio into the sun
K.O!
This melee's victory goes too..
Vince McMahon!