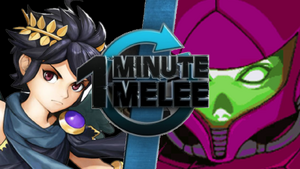 Dark Pit vs SA-X is ahomeschoolingroudon's sixth One Minute Melee featuring Dark Pit from Kid Icarus and SA-X from the Metriod series.
Description
Which clone is superior the clone made with the mirror of truth or the parasite?
Interlude
ONE MINUTE MELEE!
WHERE ALL THE FIGHTS ARE SETTLED IN 60 SECONDS!
2 FIGHTERS!
NO RESEARCH!
60 SECONDS!
MELEE!!!
Fight
Dark Pit is walking through a factory until he sees SA-X breaking through the containment cell
Dark Pit: The hell are you?
SA-X just looks at Dark Pit with it's blank eyes and aims it's arm cannon at him
Dark Pit: I don't understand freaky alien sign language but I take it you want a fight.
Dark Pit pulls out his Silver Bow
Dark Pit: And a fight you'll get!
Go for Broke!
Engage!
Dark Pit slashes away but SA-X knocks him away with a super bomb and then blasts him away with a charge shot
Dark Pit: Hm, tougher than I thought.
Dark Pit pulls out the violet palm and begins firing at SA-X but gets countered with an ice beam. Dark Pit however fires a Silver Bow arrow at SA-X's head impaling it.
Dark Pit: You're dunzo!
Dark Pit pulls out the Dark Pit Staff and fires it at SA-X but it jumps away and speeds at Dark Pit then screwattacks him
Dark Pit: Grr..
Dark Pit kicks SA-X away and whacks it three times with the Ogre Club and fires the EZ Cannon at him.
Dark Pit: You're done.
SA-X jumps out of the smoke and fires a Super Missile at Dark Pit but he reflects it back  at it and SA-X explodes
K.O!
Dark Pit walks out of the factory noticing Kyoko in the distance
This melee's winner is...
Dark Pit!
Who do you think would win?