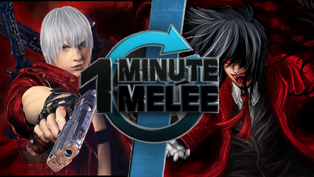 Dante vs Alucard is ahomeschoolingroudon's thirteenth One Minute Melee between Dante from Devil May Cry against Alucard from Hellsing
Description
The second son of Sparda goes against the most powerful demon!
Interlude
ONE MINUTE MELEE!
WHERE ALL THE FIGHTS ARE SETTLED IN 60 SECONDS!
2 FIGHTERS!
NO RESEARCH!
60 SECONDS!
MELEE!!!
Fight
Dante is just chilling at a pizza parlor. With two slices already in his hand. However Alucard notices him and sends him a thought through Hypnosis and forces him to exit the parlor
Alucard: I'm happy that idiots like you still exist today.
Dante: I think you'll change your mind on that
Dante pulls out Ebony & Ivory
Dante: Once you see my capabilities.
Alucard: You'll be squealing like a pig.
This outta be a match to remember!
FIGHT!
Alucard teleports in front of Dante and begins punching him before he can react.
Dante: Demons, superhumans, same crap everyday.
Dante pulls out the Rebellion and swings at Alucard, Dante cuts his arm off but it grows back shortly
Alucard: You dun goofed.
Alucard's eyes glow red entering his twisted side
Alucard: I'm gonna show you how a real vampires do battle..
Alucard smashes Dante to the ground and shoots at him with the Jackal.
Dante: You kidding? This is nothing.
Alucard: Do you not know who I am? I am Alucard!
Dante: You're an asshole!
Dante pulls out the Sparda and slashes at Alucard and impales him.
Dante: Jackpot!
Dante uppercuts Alucard away. Alucard however shoots Dante with a explosive round
Alucard: 13mm explosive steel rounds, alloyed with silver melted from a Lanchester cathedral cross. There's no freak around who can eat these and come back for seconds
Dante: Thanks for the lesson freak. Now for me to say otherwise!
Dante activates his Devil Trigger and one shots Alucard
K.O!
Alucard gets launched back away. Dante turns back and walks back into the pizza parlor
This melee's victory goes to..
Dante!
Who do you think would win?