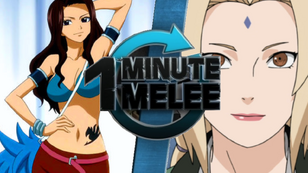 This is ahomeschoolingroudon's eighth One MInute Melee between Cana Alberona from Fairy Tail against Tsunade from Naruto
Description
Battle between two alcoholics in a battle between card magic and raw strength
Interlude
ONE MINUTE MELEE!
WHERE ALL THE FIGHTS ARE SETTLED IN 60 SECONDS!
2 FIGHTERS!
NO RESEARCH!
60 SECONDS!
MELEE!!!
Fight
Tsunade walks into the bar and saw a new face, one drinking straight out of a barrel. Cana Alberona.
Tsunade: Hey, this is my bar! Nobody bests me!
Cana: Woah, take a chill pill.
Tsunade: No, you're going down!
Cana: Whatever.
Get your drinks ready!
FIGHT!
Cana throws the barrel at Tsunade but she smashes it into pieces, Tsunade runs up and kicks her in the head and uppercuts Cana away.
Tsunade: Too easy.
Cana: That's because I was going easy!
Cana pulls out cards and uses the icicle spell sending icicles at Tsunade.
Tsunade: Grr.
Tsunade jumps up and kicks Cana rapidly, however Cana used the Wind Edge card sending Tsunade flying back
Cana: Never mess with me
Tsunade: No matter, I'll still win.
Cana activates the Jolt of Fate but Tsunade uses her ninja abilities to avoid the electricity and sends her own electricity waves at Cana
Tsunade: You're going down.
Cana: Not just yet!
Cana throws shuriken cards as a distraction for Tsunade as she activates the Fairy Glitter, Tsunade avoids and foolishly runs at Cana
Tsunade: Take this!
Tsunade jump kicks at Cana but she's activates the Fairy Glitter
Cana: Gather! O river of light that guides the fires! Shine! In order to perish the fangs of evil! Fairy glitter!
Fairy Glitter surrounds Tsunade as a halo and it constricts her
K.O!
Cana: The deed is done.
This Melee's Victory Goes Too..
Cana Alberona!
Who do you think would win?