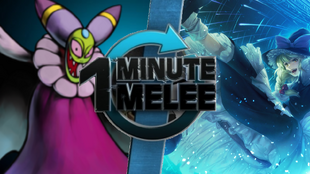 Cackletta vs Marisa Kirisame is ahomeschoolingroudon eleventh fan-made One Minute Melee putting Cackletta from the Mario & Luigi series against Marisa Kirisame from Touhou Project
Description
It's witch versus witch in the One Minute Melee ring, who shall become victorious?
Interlude
ONE! MINUTE! MELEE!!!
WHERE ALL THE FIGHTS ARE SETTLED IN 60 SECONDS!
2 FIGHTERS!
NO RESEARCH!
60 SECONDS!
MELEE!!!
Fight
Cackletta is walking through Hoohoo Village until she sees Marisa flying through the skies.
Cackletta: Haha! A fool witch!
Cackletta strikes lightning at her sending her downward.
Cackletta: She shouldn't have done that!
Marisa however gets back up and walks towards Cackletta
Cackletta: I have no time to deal with you fool! Go away!
Cackletta summons in a robot to fight for her but Marisa fires a energy ball destroying it
Marisa: I'm not letting getting attacked slide, you're going down.
Cackletta: Suit yourself, I'll knock you back to where you came from!
Go for broke!
Begin!
Cackletta shoots lightning again but Marisa uses the spell card Gravity Beat knocking Cackletta to the ground but she duplicates herself and the two clones begin to ambush Marisa.
Cackletta: Take that missy!
Marisa uses escape velocity spell card launching Cackletta upward then uses Non-Directional Laser spell card.
Marisa: Blazing Star!
Marisa uses the Blazing Star spell card and rockets toward Cackletta but Cackletta shoots fire at her before she makes contact
Cackletta: Ehaha!
Cackletta creates three clones of herself and claws at Marisa
Cackletta: I'm still ten times better then you!
Cackletta strikes down more lightning but Marisa avoids it and uses Earthlight Ray spell card
Marisa: I've shown you the power of magic. Now to end this!
Marisa uses the Deep Ecological Bomb destroying Cackletta's body
Cackletta: EYUGH!
Cackletta's Soul emerges.
Marisa: Final Spark! Your battle, will END here!!!
Marisa uses the Final Master Spark spell card disintegrating Cackletta's Soul
Marisa: You can not beat me, idiot!
K.O!
Marisa pulls out her broom and continues on flying
This Melee's victory goes to..
Marisa Kirisame!
Who do you think would win?
Ad blocker interference detected!
Wikia is a free-to-use site that makes money from advertising. We have a modified experience for viewers using ad blockers

Wikia is not accessible if you've made further modifications. Remove the custom ad blocker rule(s) and the page will load as expected.