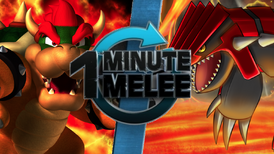 Bowser vs Groudon is blippeeddeeblah's fourth One Minute Melee that pits Groudon from Pokemon against Bowser from Mario
Description
Will the King of Koopas fair against a legendary Pokemon?
Interlude
ONE MINUTE MELEE!
WHERE ALL THE FIGHTS ARE SETTLED IN 60 SECONDS!
2 FIGHTERS
NO REASEARCH
60 SECONDS
MELEE!!!!!!!
Melee
Bowser was sitting on his throne when he heard something outside. He roars and jumpos off his throne, sending some Goombas flying and walks outside.
Bowser: I know what you're up to Mario!
Bowser soon realized that it wasn't Mario. He heard a roar and then saw Groudon emerge from a huge crack in the ground
This gotta be a match to remember!
Fight!
Groudon headbutts Boswer pushing him back but Bowser jumps towards Groudon to counter the attack and slices at the Pokemon's neck but Groudon slams the Koopa down to the ground and then uses Earthquake that sent Bowser up into the sky again
Bowser sees Groudon doing another attack so he hides in his shell.
Bowser: Hahaha! Now try to get me!
Groudon simply roars again and uses Mud Shot which forces Bowser out of his shell, but Bowser roars back and fires a huge blast of fire. Groudon charges up a solar beam.
Both attacks collide and Groudon's attack wins but Bowser turns into Giga Bowser.
Giga Bowser: Mwahahahaha!
Giga Bowser blocks the attack with his shell and grabs Groudon
KO!
Bowser throws Groudon off
THIS MELEE'S VICTORY GOES TO
BOWSER!
Ad blocker interference detected!
Wikia is a free-to-use site that makes money from advertising. We have a modified experience for viewers using ad blockers

Wikia is not accessible if you've made further modifications. Remove the custom ad blocker rule(s) and the page will load as expected.