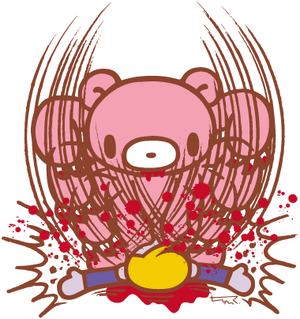 Gloomy Bear is the embodiment of the belief Mori Chack, the creator has that Humans and Animals are incompatible by nature, and that Animals are Wild by nature. Despite this, it even got a huge cult following even in places outside the East...
Fanon Ideas so Far
None yet.
Trivia
Gloomy Bear is so popular in fact, Popular Visual Novel Mascot Super Sonico even has a variant that pays tribute to Mori Chack's violent creation. It should also be noted it looks cute too, even for such brutality as something as terrifying to children as Gloomy Bear...
Ad blocker interference detected!
Wikia is a free-to-use site that makes money from advertising. We have a modified experience for viewers using ad blockers

Wikia is not accessible if you've made further modifications. Remove the custom ad blocker rule(s) and the page will load as expected.