Description
2 Fighters! No research! 60 Seconds! MELEE!!!! Who would win between the abomination who killed Superman and the evil shadow of Shadow the Hedgehog? Find out in 60 quick seconds!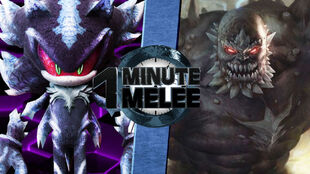 Interlude
ONE MINUTE MELEE!
WHERE ALL THE FIGHTS ARE SETTLED IN 60 SECONDS!
2 FIGHTERS! NO RESEARCH! 60 SECONDS!
MELEE!
MELEE!
New York City. Nothing big is happening. Then Doomsday bursts out of the ground and rampages. Mephiles the Dark then arrives.
Mephiles the Dark: Your shadow will no longer exist when I'm done with you.
Doomsday roars at Mephiles.
MONSTER VS SHADOW! FIGHT!
Doomsday runs at Mephiles and punches him, making him fly back into a building. Mephiles flies up and fires a Dark Chaos Lance, but Doomsday dodges it and leaps at Mephiles and punches him again. Mephiles fires another Dark Chaos Lance, but misses. Doomsday picks up a car and throws it at Mephiles. Mephiles fires a Dark Chaos Lance at the car, destroying it. Then Doomsday leaps and tries to punch Mephiles, but Mephiles dodges and finally hits him with a Dark Chaos Lance. Doomsday crashes to the ground, seemingly dead.
Mephiles the Dark: Is that honestly all you got?
Doomsday suddenly leaps at Mephiles and brutally punches his head off.
K.O.! THIS MELEE'S VICTORY GOES TO...
DOOMSDAY!
Ad blocker interference detected!
Wikia is a free-to-use site that makes money from advertising. We have a modified experience for viewers using ad blockers

Wikia is not accessible if you've made further modifications. Remove the custom ad blocker rule(s) and the page will load as expected.