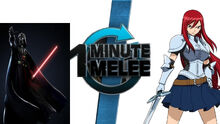 ONE MINUTE MELEE
WHERE ALL THE FIGHTS ARE SETTLED IN SIXTY SECONDS
TWO FIGHTERS, NO RESEARCH, SIXTY SECOUNDS
MELEE!!!
GO
Erza Scarlet is grinning as she has defeated the red Dog thing, and then her grin falters as she sees the Death Star approach.
Erza: I got to destroy that, it looks like trouble.
She quickly summons 200 swords and destroys the Death Star.
That pierces and destroys the plane, But a black robot humanoid escapes.
Darth Vader: You destroyed my ship after I got it repaired. You'll pay for that.
FIGHT
Erza summons 5 blades to attack Darth Vader, but he dodges and counters it with a few swings with his Lightsaber. Erza blocks some of his strikes, then summons an armor that blocks the rest of the strikes. Darth Vader uses the force and lifts Erza up, then drops her. He throws his Lightsaber, but Erza blocks and rushes him. She slashes at Vader multiple times, then summons her agile armor. Vader tries to use the Force, but Erza is too fast for him. She summons a bunch of swords and they slash him upward and downward and bring him to the ground. She fires a magic blast at him, but he deflects it, and uses the force to hold her in place. He tries to stab her, but she switches to her bulky Giant Armor. Vader then has an Idea. He uses the force to hold the slow Erza in place. He then closes the armor in on itself, crushing and killing Erza.
K.O.
THIS MELEE'S WINNER IS..... DARTH VADER.
Ad blocker interference detected!
Wikia is a free-to-use site that makes money from advertising. We have a modified experience for viewers using ad blockers

Wikia is not accessible if you've made further modifications. Remove the custom ad blocker rule(s) and the page will load as expected.