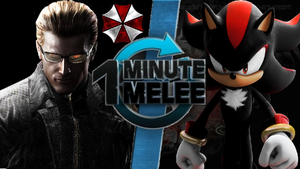 Albert Wesker vs Shadow
is a What-If? episode of One Minute Melee.
Description
ONE MINUTE MELEE!
WHERE ALL FIGHTS ARE SETTLED IN 60 SECONDS!
2 FIGHTERS, NO RESEARCH!
60 SECONDS!
MELEE!!
GO!
Interlude
Albert Wesker watched as the hedgehog infiltrated Umbrella Corporations. He knew this menace needed to b delt with accordingly. Albert left his main room and started walking down the hallway to greet the pest. Shadow and Albert seen each other and instantly got ready for a fight.
THIS OUTTA BE A MATCH TO REMEMBER
FIGHT!
Fight
60
Shadow ran forward at Albert and punched him. Albert skidded back a little and seemingly teleported in front of Shadow and kicked him into the air. Albert jumped up and punched Shadow, sending him slamming into a wall. Shadow recovered and him and Albert dashed at each other again.
50
Shadow teleported behind Albert and kicked him which briefly stunned him. Shadow teleported again and formed 2 dark spheres in his hands and sent Albert across the hallway. Albert got back up and Shadow was already in front of him. Albert backhanded Shadow which sent him into another wall. "CHAOS CONTROL!!" Shadow shouted and suddenly Albert wasn't able to move.
40
Shadow punched and kicked Albert over and over and finally time returned. Albert was knocked around in one place badly as time caught up from all the blows. Albert was sent into a wall and he wasn't happy. Shadow grunted and pulled out the Shadow Rifle and began firing.
30
Albert seemingly teleported again and dodged all the bullets. This made Shadow angry as he threw his rifle to the ground and ran at him. Albert took Shadow by surprise as Albert pulled out his handgun and fired a bullet straight at Shadow. Shadow narrowly teleported just in time to survive.
20
Albert pointed his gun at Shadow but before he took another shot Shadow kicked the gun out of his hands. Albert grabed Shadow then threw him so hard at a wall that he blasted straight through it. Albert jumped out aswell and now the 2 were free falling from a VERY high distance. Shadow teleported next too Albert and punched him.
10
Shadow teleported again and felt a kick to his gut from Albert. Shadow was then grabed by Albert. Albert was sure of victory when suddenly Shadow struck a Chaos Spear into his chest. Albert hurt only a little bit but then Shadow had a red aura and yelled "CHAOS BLAST!!". The explosion covered extreme distances. Shadow teleported to safe ground and walked away.
K.O.!!
Winner
This Melee's winner is... Shadow!
Trivia